CPID
Health effects of consumer products
What's in it?

Search Entire CPID Database
Enter Products, Manufacturers, Chemicals, Product Categories and Product Types
Clorox Commercial Solutions Green Works Naturally Derived Bathroom Cleaner, Concentrate, Professional Use-01/05/2015
Certification Expires : Always Active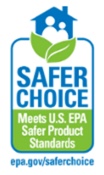 Products in this Consumer Product Information Database (CPID) are classified based on their composition:
Substances: single chemicals
Preparations: products which contain chemicals that can be easily separated during normal use
Articles: products or product assemblies that do not contain chemicals that can be separated out from the product or assembly under normal or advertised use.

Classification:
Preparation
Indicates country where product is sold.

Market:
US/Canada
Brand Information
Date entered: December 13, 2015
Clorox Commercial Solutions Green Works Naturally Derived Bathroom Cleaner, Concentrate, is a naturally derived bathroom cleaner made with plant- and mineral-based cleaning ingredients that power through soap scum, rust and hard water stains, without harsh chemical fumes or residue. Works great on washroom counters, sinks, bathtubs, tile and shower doors.
Purpose of product.

Usage:
Washroom cleaner
Structure such as solid, liquid, aerosol etc.

Form:
liquid
Customer Service No:
800-227-1860
Manufacturer Information
Date when validity of Material Safety Data Sheet (MSDS) or Safety Data Sheet (SDS) was last verified.

Date verified: March 07, 2020
Clorox Company, The
1221 Broadway
Oakland CA 94612

Chemical Composition/Ingredients

The GHS is an acronym for The Globally Harmonized System of Classification and Labelling of Chemicals. The GHS is a system for standardizing and harmonizing the classification and labelling of chemicals. Chemicals are associated with codes that define their health, physical and environmental hazards.This universal hazard communication system was developed to ensure that employers, employees and consumers are provided with adequate, practical, reliable and comprehensible information on the hazards of chemicals, so that they can take effective preventive and protective measure for their own health and safety.
The GHS classifications for chemicals associated with products in this database may be viewed by selecting the "Advanced" button on the Chemical Ingredients tables. Since this is a work in progress, GHS classifications may not be shown for all chemical ingredients.

Advanced

Health Effects Information

Ingredients and Health Effects Information are taken from the manufacturer's product label and/or the Safety Data Sheet (SDS). Products are not tested and manufacturer's information presented here is not evaluated by DeLima Associates.

Date that SDS was issued by manufacturer of product.

SDS DATE :
January 05, 2015

Health
Flammability
Reactivity

HMIS is the Hazardous Materials Identification System developed by the American Coatings Association and indicates the levels ("1" to "4") of Health Hazard, Flammability Hazard and Physical Hazard associated with a specific product.

HMIS RATING
2
0
0

Measure of Alkalinity/Acidity of substance or preparation where a level of 7 is considered as neutral.

pH Levels
1.,5-2.5

Warnings

Hazard statements
Causes skin irritation. Causes serious eye irritation.
Precautionary Statements
Prevention
Wash hands and any exposed skin thoroughly after handling. Wear protective gloves such as rubber or neoprene gloves. Wear eye protection such as safety glasses.
Response
If on skin: Wash with plenty of water.
Specific treatment (see supplemental first aid instructions on this label). If skin irritation occurs: Get medical attention. Take off contaminated clothing and wash it before reuse.
If in eyes: Rinse cautiously with water for several minutes. Remove contact lenses, if present and easy to do. Continue rinsing. If eye irritation persists: Get medical attention.
Storage
None
Disposal
None
Hazards not otherwise classified (HNOC)
No information available
Interactions with Other Chemicals
Reacts with products containing sodium hypochlorite to produce hazardous gases, such as chlorine and other chlorinated compounds.

Acute health effects

From SDS:
Hazards Identification
This chemical is considered hazardous by the 2012 OSHA Hazard Communication Standard. Causes skin irritation. Causes serious eye irritation.
Potential Health Effects
Eye Contact: May cause eye irritation.
Skin Contact: Prolonged contact may cause irritation.
Inhalation: Exposure to vapor or mist may irritate respiratory tract.
Ingestion: Ingestion may cause irritation to mucous membranes and gastrointestinal irritation, nausea, vomiting, and diarrhea.

Chronic health effects

From SDS:
Not known.

Carcinogenicity

Contains no ingredients listed as a carcinogen

Handling information

Handle in accordance with good industrial hygiene and safety practice. Avoid contact with eyes, skin, and clothing. Do not eat, drink, or smoke when using this product. Keep containers tightly closed.

Disposal information

Dispose of in accordance with all applicable federal, state, and local regulations. Do not reuse empty containers.

California Prop. 65 Warning

This product does not contain any Proposition 65 chemicals

First Aid

Eye Contact: Rinse immediately with plenty of water, also under the eyelids, for at least 15 minutes. Remove contact lenses if present and easy to do. Continue rinsing. Keep eye wide open while rinsing. Do not rub affected area. Get medical attention if irritation develops and persists.
Skin Contact: Take off contaminated clothing. Wash with plenty of water. Get medical attention if irritation develops and persists.
Inhalation: Move to fresh air. If breathing is affected, get medical advice/attention.
Ingestion: Drink a glassful of water. Call a poison control center or doctor immediately. DO NOT induce vomiting unless told to do so by a poison control center or doctor.
General: Show this safety data sheet to the doctor in attendance.
Notes to Physician: Treat symptomatically.
Protection of First Responders: Avoid contact with skin, eyes or clothing. Use personal protective equipment as required. Wear personal protective clothing.